Google's sharing and collaboration make the apps available in G-Suite a powerful tool for the classroom. These features allow students to easily work together on documents and presentations and for teachers to share and co-author files with other teachers and students and co-edit documents, spreadsheets, and presentation in real time.
How to Share in Drive, Docs, Sheets, and Slides
Share and Work with Others Tutorial from Google
Examples and Tips for Using Shared Google Docs
Whole-Class Brainstorming Session
Create a shared Google Doc for the class. All students in the class can access the document and add their ideas or information to the document simultaneously. They can view each others' ideas as they add to spur further ideas.
Shared Notes
Students can share information with each other when they work together as a group. In a document that has been shared with all group members, they can add ideas and resources and see everyone's changes in real time.
Group Assignments
Students can work together on a shared Google Doc or presentation. Each student can be responsible for a portion of the work.
Resource Sharing
Using a shared folder, teachers and students can save documents for everyone in the class to access. The teacher can set if up so that only he or she can add resources to the folder, or students can be allowed to add resources.
Writing Workshop – Peer Review
Students can write their assignment in a Google Doc. They can share their work so that peers can edit the document or suggest changes. Teachers can do the same to help students along in the writing process.
Tips for Sharing and Collaboration with Google Docs
Sharing a Document with the Whole Class
There are multiple ways to share a document when you want everyone in your class or group to have access to a document:
Create a shared folder in Google Drive. Every file or document you put in that folder will have the same sharing permissions of that folder.
Share the file with specific people. With this sharing setting you can add each person you would like to share the file with. If you have set up a Google Group, you can share the document to the group's address.
Share a link to the file. In the sharing settings click on Get Shareable Link. Choose the level of access you would like and copy the link. You can share this link through your class website or Canvas page.
Attach Google files to Assignments you create in Google Classroom. Click here to learn more about how files are shared in Google Classroom.
Force Copy
If you don't want others to be able to edit your copy, but make their own copy of the document you can set your sharing settings to View Only. When others open your document, they can make their own copy by clicking on File > Make a Copy. This will make a copy of the file and add it in their Google Drive. An even easier way is to force them to make a copy in the first place. To do this: copy the link of the doc, sheet, slide or drawing–the one you see when you are editing. When you share the link, replace the word EDIT and everything after it with the word COPY. The user will then be prompted to make a copy of the file.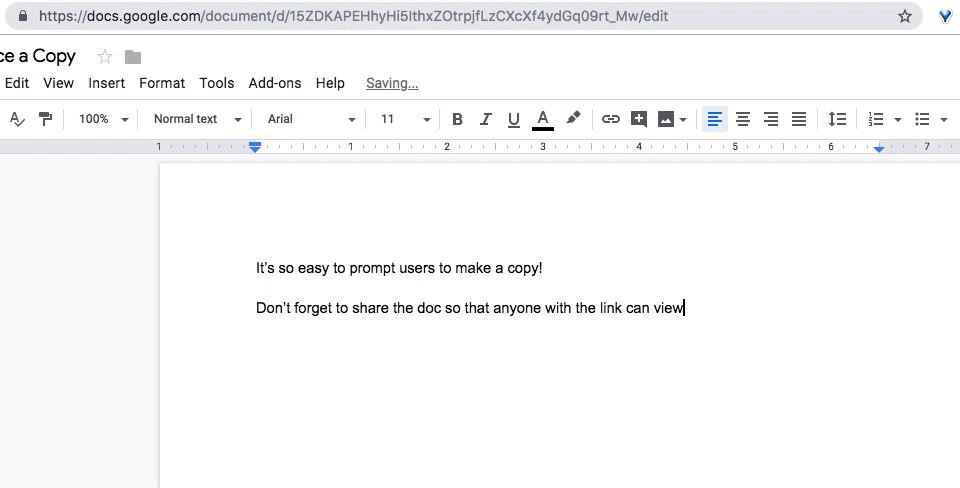 Organize Collaboration
When you have multiple students editing one document, sometimes it can be a bit chaotic. In a Google Doc, manage this collaboration by creating a table with a section for each student if this is appropriate for your task. In Slides, add a slide for each student or small group.
Suggesting Mode
While the ability to directly edit a Google Doc is great, there are times when you may only want to suggest changes to another person's document without actually making any changes unless the person accepts the changes. With Suggesting Mode, you can do just this. To enter the mode, look in the toolbar with an editing pencil icon. Click on the arrow next to the pencil icon and select "Suggesting." Only the author of the document is able to approve or disapprove any suggested changes.