Google Meet allows teacher to hold video meetings with their students or other staff members. All Granite students and staff have access to Google Meet using their @granitesd.org account.
Video conferencing using Google Meet or another video conferencing tool is especially important during remote or online learning. They make it possible for teachers and students to maintain a human connection and allow teachers to guide student learning from a distance. Not only can teachers use video conference for whole-class check-ins or instruction; it can also be use for small group instruction, small group discussion and conferencing with students. This blog post by Catlin Tucker provides more information on using video conferencing with students learning remotely.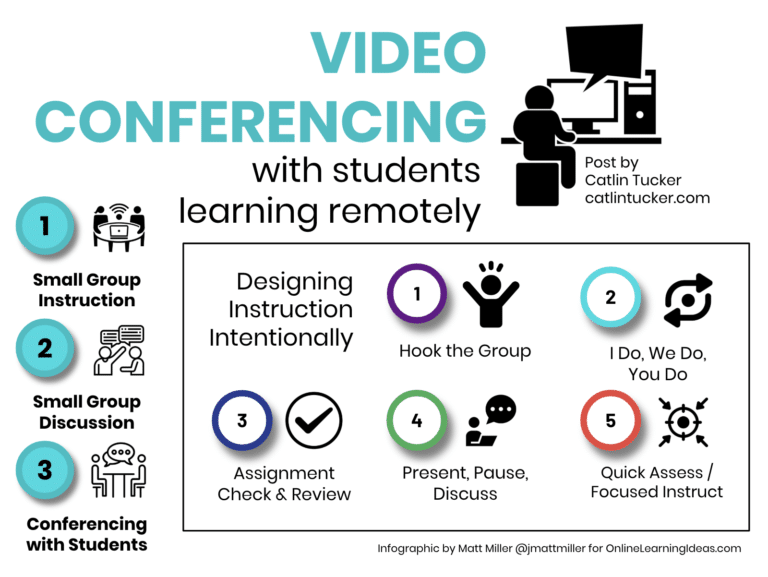 Using Google Meet
Starting or Joining a Google Meet
To access Google Meet type in meet.google.com in your web browser address bar or log in to Google and click on the Apps Menu and then Google Meet.
To start a meeting or to join a meeting you've been invited to, click on "Join or start a meeting."
Join a meeting by entering a meeting code or nickname. If you are starting a meeting, create a meeting nickname that you can give to others to join. This is especially important in managing student access to your Meet. Click Continue to enter the meeting.
Participating in a Google Meet
Before joining the meeting you can click on the microphone and camera toggles to mute or unmute your microphone or turn on and off your web camera. Red signifies the mic is muted or the camera is off.
Click Join now to join the meeting.
If you are the creator of the meeting you can copy the joining info and send it in an email. An easier option is to share the meeting nickname.
Once you are in the meeting, you can toggle on and off your microphone and webcam, present your screen, and text-chat with other participants in the meeting.
Click on the phone icon to leave the Meet.
Clicking on the 3 dots at the bottom right corner of the Meet will open a men of more options: including screen layout and recording the meeting among other options.
You have several options to present your screen:
Presenting your entire screen allows you to present all of your desktop. This is a great option when you need to toggle between programs on your computer.
Presenting a window is great when you only want to show one program.
Presenting a Chrome tab is best if you want to present a Google Slide deck or a video or other animation.
Tips for Managing Access to Your Meet
You likely will want to manage when students can access your Google Meet. This video shows you how to set up a Google Meet so that your students cannot access it without you.
Using Google Meet within Google Classroom
Google Meet is directly integrated into Google Classroom. Students can easily access the Meet through your Google Classroom and only when you are in the Meet.
To create your Meet link click on Generate Meet link in the banner of your Google Classroom. Once you've clicked on it, the Meet link will appear in the banner as well as at the top of the Classwork page.
Students will only be able to access the Meet when you are in it. You will want to create an announcement or Calendar event in your Google Classroom in order for students to know when to join the Meet.