What are Project-Based and Inquiry-Based Learning?
Inquiry-based learning describes educational approaches that are driven more by learners' questions than by a teacher's lesson. Teachers act as guides and facilitators in helping students formulate questions and pursue the answers.
The 5Es Lesson Model
The 5Es Lesson Model goes hand in hand with inquiry. As students go through the sequence of a 5Es lesson or unit, they build their own understanding from experiences and new ideas. It can be used directly within project-based learning.
Engage: pique student interest and get them personally involved in the lesson, while pre-assessing prior understanding.
Explore: involve students in the topic, providing them with a chance to build their own understanding.
Explain: provide students with an opportunity to communicate what they have learned so far and figure out what it means.
Elaborate: allow students to use their new knowledge and continue to explore its implications in new and unfamiliar situations
Evaluate: assess both students and teachers to determine how much learning and understanding has taken place.
Descriptions of the 5Es components taken from NASA eClips: The 5 Es Instructional Model.
Project-based learning is one form inquiry-based learning can take.In project-based learning, students develop "knowledge and skills by working for an extended period of time to investigate and respond to an authentic, engaging and complex question, problem, or challenge." (Buck Institute for Education)
The Elements of Project-Based Learning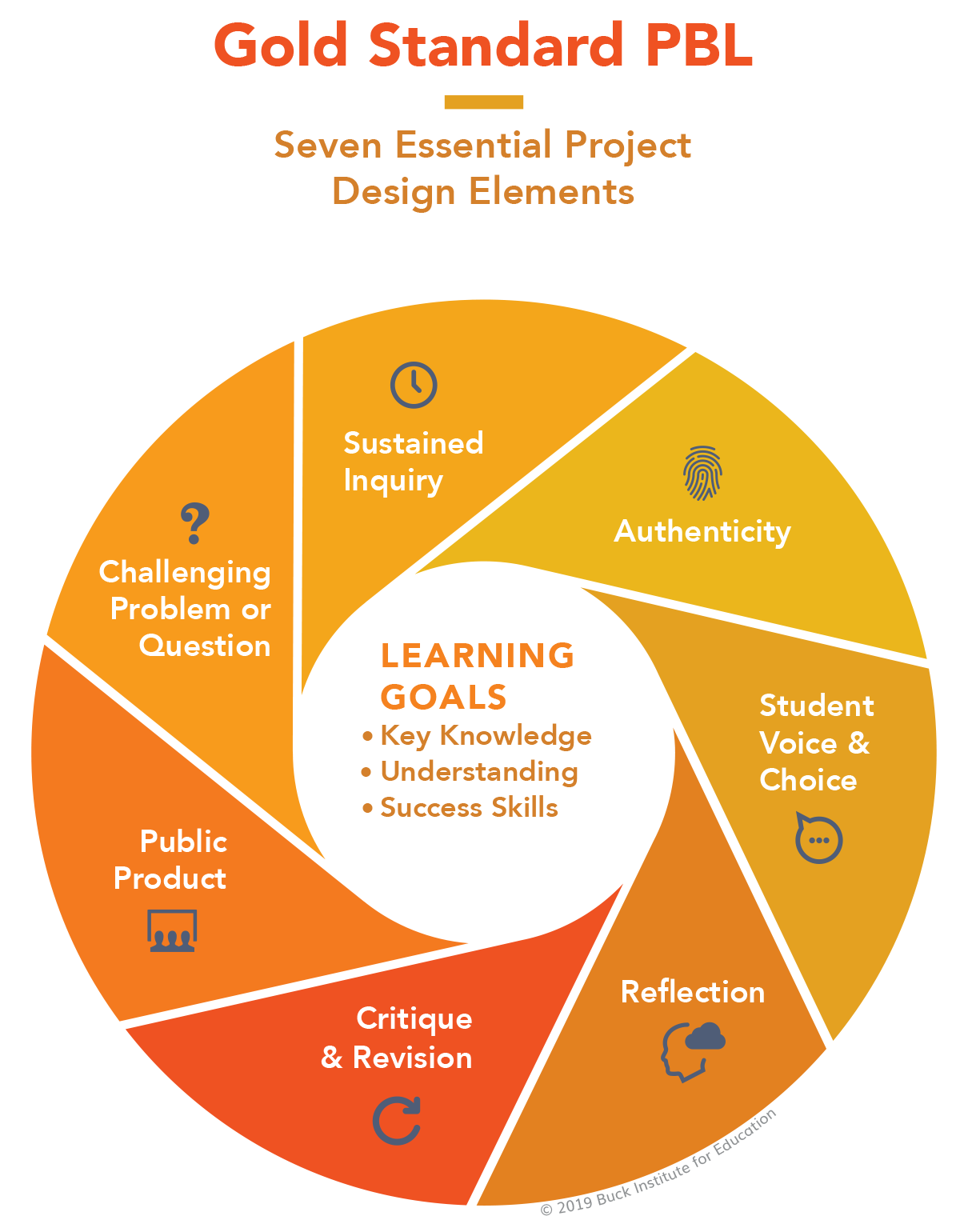 The project is focused on student learning goals including standards-based content and skills such as critical thinking, problem-solving and collaboration.
The project is framed by a meaningful problem to solve or a question to answer, at the appropriate level of challenge.
Students engage in an extended process of asking questions, finding resources, and applying information.
The project is authentic and based in real-world context that is meaningful to the students.
Students have some voice and choice in making decisions about the project and what they create.
Students and the teacher have opportunities to reflect on learning.
Students give and receive feedback to improve their process and products.
Students present their work to people beyond their classroom.
Why project-based and inquiry-based learning?
Both inquiry-based and project-based learning are student-centered. Inquiry more closely resembles how we actually pursue knowledge. Technology can be used in authentic ways throughout all parts of this learning process. Inquiry and project based learning can be used across disciplines and multiple skills or knowledge areas can be reinforced in different parts of the same project. These learning experiences provide students with the opportunity to learn, develop and use a range of skills important to become lifelong learners including:
information processing skills (research and information literacy)
critical and creative thinking skills
communication skills
and reflective and metacognitive skills.*
Reynolds, R (2009). Teaching Studies of Society and Environment in the Primary School. Oxford, Sydney.
Bringing Project-Based and Inquiry-Based Learning into the Classroom
More Resources on Inquiry and PBL
---
++ Indicate future links to Technology Integration Progress resource pages not yet completed. These pages will be added to throughout the year, and we will post updates about new content on our blog and social media accounts. If you have a request or suggestion for new or additional content, please let us know.