The Educational Technology Department recently participated in Granite School District's Latino Outreach Night, during which we shared with students and their families some unplugged and plugged Hour of Code activities, a button making activity, as well as information on accessing Granite's OverDrive Digital Library. We created a couple of new collections in OverDrive especially for the night: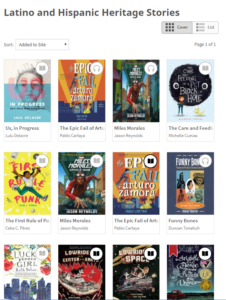 We also created this poster featuring Latino Stories in OverDrive which you are free to print out and display in your library or classroom, or post digitally on a web site.
We'd love to add to these lists, as well as create more lists of books and resources on other subjects and cultures in coming months. If you have a purchase suggestion (either for OverDrive or your school's library) or if you would like help finding resources and books on a certain topic or subject, try out our Request and Suggestion Form.